Upcoming Events
Proof's 2017 NYE Lounge Party
December 31, 2017 from 9:00pm – late
Ring in the new year in style at Proof Kitchen + Lounge!
Live Band / DJ Exclusive Vibez / Hors D'Oeuvres / One Drink Ticket / Party Favours / Champagne Toast at Midnight
Tickets are $60 via proofnye.eventbrite.ca  or take advantage of our ticket and room package at the Delta Waterloo here.
Book Now Space is Limited.
---
Prooflicious – The Canadian Edition
August 5 – 20, 2017
Attention Waterloo Region foodies! Prooflicious is back this summer with a special Canadian inspired menu as a nod to Canada's 150 birthday.
Our Executive Chef Jeritt and his team have cooked up a Canadian inspired dinner menu using local ingredients in each delicious dish.
Book your reservation today to take advantage of our three-course prix fixe menu for only $36.95.
---
Proof Joins Waterloo Region's Tacofest
June 16, 2017 from 6pm – 10:30pm
Waterloo Region Tacofest promises three things: tacos, craft beer, and good times.  All proceeds from the event will support Meals on Wheels and More, a local charity that works with hundreds of local volunteers to help people live at home with independence and dignity.
Featuring 16 local restaurants and their finest tacos, including Proof Kitchen + Lounge  16,  local craft breweries serving their best brews, music and more fun than you can shake a maraca at, Tacofest will blow your mind.
---
Father's Day at Proof
Sunday, June 18 2017
Join us this Father's Day for a special surf + turf sure to please dad.
Add a Canadian lobster tail to any steak for $16.99.  For those who just want the surf  – you can order just a lobster tail for $21.99.
---
Annual Tiki Patio Party
May 27, 2017 from 2pm – 8pm
Join us on Saturday, May 27 (rain or shine) for our 2nd Annual Tiki Patio Party!  Enjoy live music, free drink samples from a variety of great wine, craft beer and spirit vendors a free pig roast at 5pm, door prizes and a grand prize!
RSVP to Uptown Waterloo's best patio party – > here.  See you there!
---
Prooflicious
Lunch + Dinner Prix Fixe Menu
March 1 – 31, 2017
The blizzard edition of Prooflicious is back! Now until the end of March, enjoy a two-course lunch for only $19.95 or a three-course dinner for $34.95.
View our Prooflicious menu here.
---
The Collective Cocktail Competition
Hosted by Proof Kitchen + Lounge
Sunday, March 26 from 7 – 10pm
Come and watch as KW's most talented and creative mixologists compete head to head for the title of Best Bartender.
$7 Cocktail and Snacks Menu
Donations at the door to support Waterloo Region Foodbank
---
2017 Iron Chef Waterloo Region Competition
Hosted by Conestoga
February 9, 2017
We are excited to be apart of this amazing event along side the students of Conestoga and other local chefs in supporting the culinary and hospitality industry.
For more information or for tickets click here.
---
Valentine's Day
This year, celebrate Valentine's Day with loved ones at Proof.
Enjoy our special three-course Valentine's Day dinner menu for two with live jazz music by Tim Louis providing the perfect background to your night.
---
Pop Up Restaurant Announces Chef Jeritt as Feature Chef for January
Pop Up Restaurant: January 26, 2017 at 6pm – 9pm
The Event Firm Inc. of Waterloo are the masterminds behind the local Pop Up Restaurant, where participants pick a date to attend, purchase a ticket and wait for an email the night before to be told the secret location!
Your "secret" venue will be lavishly decorated and feature a gourmet menu crafted by our own Chef Jeritt with only the highest quality ingredients, supporting local vendors as much as possible! Music will emulate the theme of the evening for this BYOB night out.
Tickets are $75 per person, bring your own wine. Purchase your tickets here.
---
 Craft Beer Friday Give Away
Friday, January 13 at Proof Kitchen + Lounge
Purchase one of our $5 pints for TGI Craft Beer Fridays and receive a ballot for the chance to win tickets to see the Toronto Maple Leafs play the Detroit Red Wings on March 7 at 7:30pm.
The winner will be announced at 9pm on January 13.
---
New Year's Eve at Proof
Now accepting reservations for New Years Eve.
View our New Years Eve menu here.
Our regular menu will be available as well.
---
Thanksgiving Dinner
Let us do the cooking and the dishes this thanksgiving.
Join us for dinner on Saturday, Sunday and Monday for a traditional thanksgiving turkey dinner for $24.95.
---
Prooflicious
Sunday Dinner, Monday – Wednesday Lunch + Dinner
July 5 – Sept. 5, 2016
Two and Three-Course Prix Fixe Menu
Indulge this summer in our Prooflicious two-course lunch and three-course  dinner menu for a great price!
Lunch: $19.95
Dinner: $29.95
---
Saturday Vibes + Patio Pitchers
Grab your friends and join us on our patio for beats by our house DJ from 6-11pm and cocktail pitchers for only $24.95 or by the glass for $6.96.
---
Tiki Thursdays
Every Thursday all summer long!
Keep Calm and Tiki On
Join us on our patio every Thursday for a $7 tiki cocktail Watch Me Dole Whip and live music.
---
Wine Wednesdays
Join us for girls night or date night at Proof for 50% off our select wine list.
---
$5 Pints on Home Games: Go Jays Go!
Watch the Jays in our lounge and enjoy a cold $5 pint of Barrel Proof from Innocente Brewery every Jay's home game.
See when to join us here: Jay's Schedule
---
Patio Launch Tiki Party
Saturday, May 28 from 2pm – 8pm
Keep Calm and Tiki On
Join us on Saturday, May 28, rain or shine for the launch of our three season patio!  Enjoy live music, a festive tiki theme, complimentary beverages, Dole Whip soft serve ice cream passable snacks and a pig roast at 6pm – you won't want to miss this event!
Grand Prize
All guests can enter to win a BBQ!
RSVP
Let us know you're coming. RSVP here.
Samples
---
Win 2 Tickets to Game 3
Raptors vs Cleveland
Watch the Raptors take on Cleveland Tuesday, May 17 for game 1 at 8:30 pm and Thursday, May 19 at 8:30 pm at Proof for the chance to win 2 tickets to game 3!
Runner up will receive a $100 gift certificate to Proof!
Watch both games at Proof to be able to enter your name twice and double your chances of winning![/vc_column_text][/vc_column]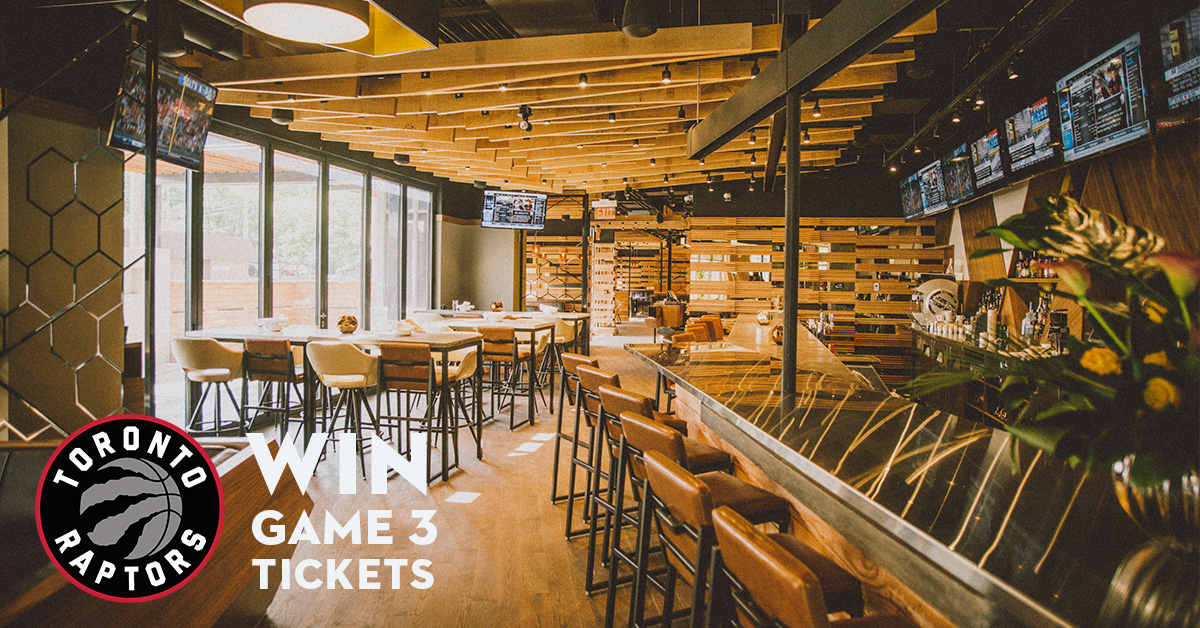 [/vc_row]
How to Navigate to Proof During the Construction
Please be reminded that the intersection at Caroline and Erb is closed. The closest open intersection to access the restaurant is Westmount and Erb.  As always, parking is free for any guests of Proof.
Below is a map indicated the best route on how to get to Proof, which is located in the Delta Waterloo.
---
Mother's Day
May 7 and May 8, 2016
Mother's Day Brunch
The whole family can enjoy everything from caramelized banana pecan pancakes, eggs benedict to our always popular fish and chips paired with a Mimosa. To see what other tasty brunch items we have, browse our menu here.
Our chef will also be cooking up some feature brunch items for Mother's Day as well!
Dates: Saturday, May 7 and Sunday May 8
Time: 7:00am – 3:30pm
Mother's Day Dinner
Not an early riser, or maybe you have multiple mother's to be thankful for –  join us for dinner instead!
Don't Wait – Reserve your Table for Mother's Day
Booking is easy with our online reservation tool through Open Table. Don't wait, book your table today!
Alternatively, call us at 519-208-3333 and we would be happy to book you a table for Mother's Day.
Happy Mother's Day to all of the wonderful mothers out there!
---
Easter Brunch
March 26 – 28, 2016 from 7am – 3:30pm
Brunch with us! Join us for Easter brunch this long weekend from Saturday, March 26 through to Monday, March 28 from 7:00am – 3:30pm each day!
Our chef has prepared some delicious Easter brunch features in additional to our new brunch menu.
March 27, 2016 from 11am – 3pm
While you catch up with family, allow us to entertain the kids with a ballon twisting artist!  
Book your table today online or call us at 519-208-3333.
---
TriCity Wine and Dine Festival
February 18 – March 3, 2016
Indulge your taste buds with a wallet friendly Prooflicious menu for only $29 or lunch for $15 during the TriCity Wine and Dine Festival running February 18 until March 3, 2016.
---
Family Day Brunch All Weekend Long!
February 13 – 15, 2016
Our Executive Chef has prepared a special Family Day Brunch Menu, offered Saturday and Sunday and extended to include Family Day Monday (7:30 a.m. – 3:30 p.m.)!
This menu will feature some of your usual brunch items, along with some new tasty options that are sure to become your new favourites! One of them being the Hangover Helper, just incase you had a little more wine than dine on Valentine's Day
---
Proof your Love; Spend Valentine's Day with Proof
February 11 – 14, 2016
This Valentine's Day weekend, we have a little something for everyone!
Our Executive Chef, Jeritt Raney has prepared a delicious Valentine's Day Menu  available from Thursday, February 11 until Monday, February 14.
Also on Thursday, we're kicking off Valentine's Day weekend with our returning local DJ's, Simply Sounding Good, along with our monthly #LoungeNight.
Saturday, February 13, we'll be featuring live piano and vocals from the talented Allister Bradley in the evening. Allister is a well-known artist across North America & Europe and has established his recording skills in independent record production and film composition, working with dozens of various singer/songwriter/musicians.
---
Super Bowl 50 Beer & Chili Combo for $16.95
Sunday, February 7, 2016
Join us in our lounge this Sunday to cheer on your favourite football team for Super Bowl 50, with any draft beer and a hearty bowl of our house-made chili for only $16.95!
---
Movember
Monday, November 30th, 2015
6:00pm – 8:00pm
Join us as we wrap up our first month of #GiveBackMondays for Movember. We have teamed up with Wellington Brewery to provide some refreshing beer samples to go along with our moustache cookies. As always, receive $5 off all apps with the purchase of an entrée and we will donate $1 towards Movember. Together we can change the face of men's health.