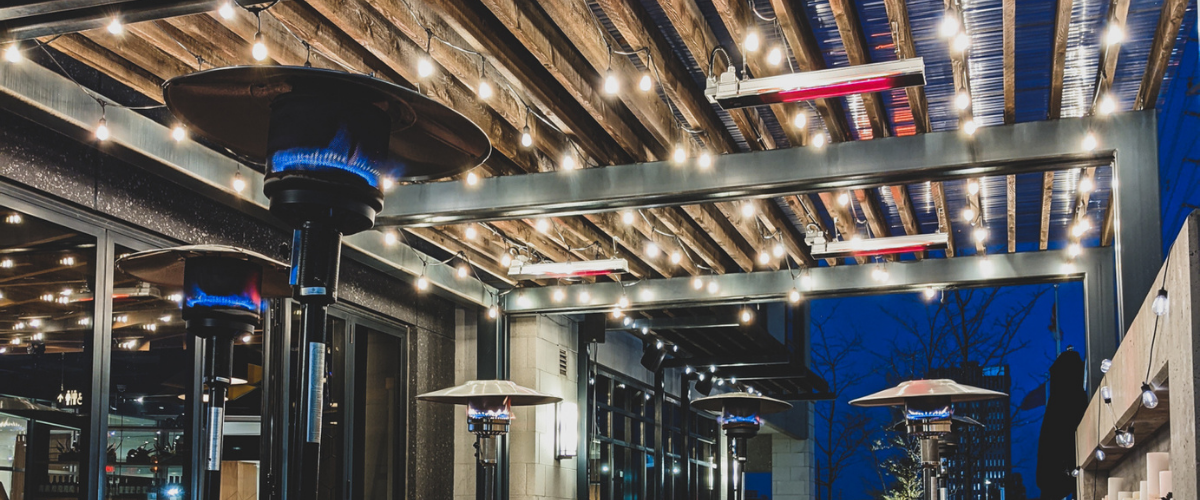 While some people genuinely love the cold and snowy weather (we're only judging you a little bit), we can all agree that one of the worst parts about colder weather is the end of patio season. Once fall kicks into full gear, patio season fades away and exists only as a fond, distant memory until spring. Here at Proof, we want to change that, so we're very excited to introduce our new heated fall and winter patio that can keep patio season going all year long.
Rather than pretending the cold weather is something to be endured, our fall/winter patio aims to embrace it. We have designed a patio with outdoor  market vibes that celebrate being Canadian and conquering the cold. To accomplish this, we installed heaters and wind shields to keep you toasty, hung string lights around the entire patio for that festive flare and created a menu to keep you warm from the inside out. Don't let the colder weather deter you from extending your patio season excitement past the summer months – enjoy our Canadian winters in the most delicious way possible! Every season is patio season at Proof!
Ready to get warm? Check out our heated patio menu here and come pay us a visit, or learn more below!
The Food
We have crafted a menu of warm patio snacks to bring out cozy feelings of a day spent enjoying the clear crisp outdoors followed by some warm and welcome cocktails and nibbles. The options range from sweet to savoury and everything in between. Our Montreal Smoked Meat Handheld is the perfect warm winter snack, featuring our famous house smoked beef brisket on a warm pretzel bun with delicious toppings. The Meli Melo de Proof is the perfect social snack, offering a tantalizing mixture of salted peanuts, almonds, Chex and fried chickpeas. If you have a sweet tooth, we highly recommend checking out our Cinnamon Sugar Churro that includes a mouthwatering mocha hot chocolate dip.
These items are just the beginning – check out the full menu here!
The Drinks
Proof is known for its award-winning cocktails, so we wanted to ensure we offered some new ones to help keep you warm. If you want to keep it classic, try our Toasty Old Fashioned made with Gibson's bold whisky, chocolate bitters, marshmallow and demerara syrup. Enjoy a savoury outdoor experience that is sure to warm your bones with our Caliente crafted from Ancho Reyes liqueur, Henessey cognac, crème de caca and milk. If you're feeling introspective, why not mull it over with our Mull it Over? This new offering combines Bacardi spiced rum, red wine, Cassis, St. Remy brandy and oranges. The aroma alone is mouthwatering.
Like our food offerings, this is only the tip of the iceberg. View our full drink menu here!
While we know it may sound odd to mix cold weather and patios, trust us – it works. Don't take our word for it though, come pay us a visit and discover an unforgettable festive experience that is sure to become an Uptown Waterloo tradition.