Is there anything more comforting than a bowl of warm homemade soup to get us through the coldest days of winter?
Whether we are heading out into the softly falling snow, bundling up in our scarves and hats for some outdoor winter fun or just going about our daily commute and errands; a warm bowl of soup checks all the boxes when hunger strikes.
Why is soup such a popular choice other than the warming factor? Soup at its best marries flavours and textures into a delicious and satisfying medley. Soup is nourishing, filling and has a surprising depth of flavour that builds with each spoonful. The creative recipes for soup are absolutely endless, from traditional favourites like butternut squash to modern takes such as vegan goulash. The rich tastes and feelings of fullness coupled with the nutritional benefits make soup an easy choice for any meal.
As winter calls for a new daily soup recipe our Chefs are kept busy creating balanced and delicious options for you. Everyday a new tantalizing bowl is presented. Inspiration comes in many forms, the smell of roasting veggies, toasting spices and simmering stocks are mouth-watering. We are delighted to offer you a comforting new soup each day at Proof. Below we have adapted one of our signature recipes for you to try at home. Let us know how you like it!
BEEF + CHILI SOUP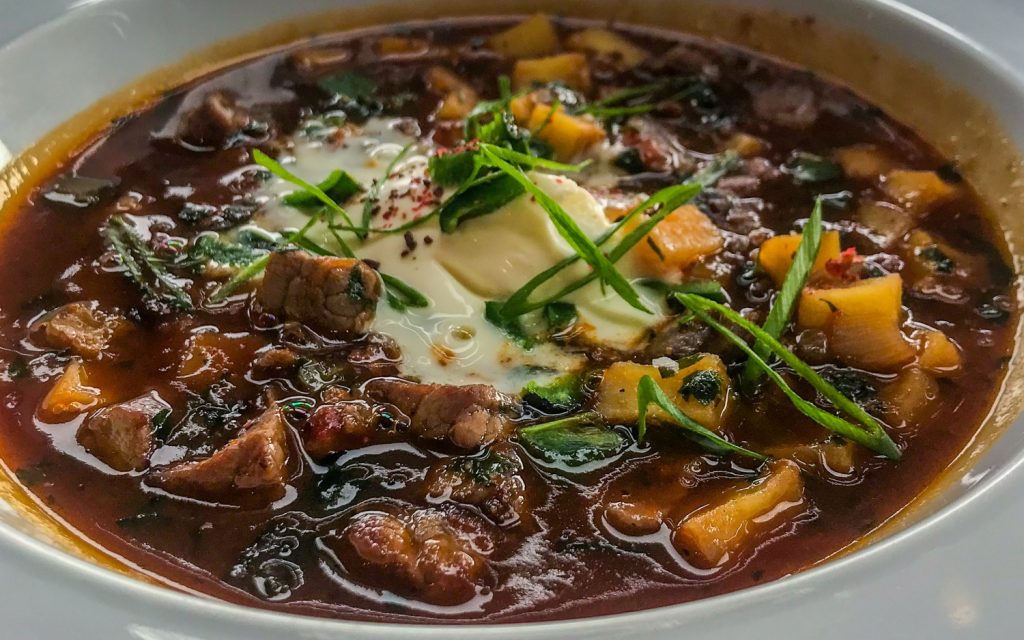 Beef and chili soup with poblano peppers, Monterey Jack cheese and cumin sour cream
Yield: 6 portions
INGREDIENTS:
1 lb of diced beef
2 large yellow flesh potatoes, cut into 1 centimeter dice
1/2 white onion, cut into 1 centimeter dice
1 poblano pepper, charred and cut into 1 centimeter dice
2 cloves of garlic, minced on a rasp or micro planer
100 g of kidney beans, rinsed
1/2 bunch of scallions, finely sliced
1 L of beef stock
3 tablespoons of vegetable oil
1/4 can of chipotle peppers, puréed
150 g of Monterey Jack cheese, shredded on the thickest hole of a box grater
METHOD:
Heat up the vegetable oil in heavy bottom sauce pot
Season the beef with a little kosher salt and ground black pepper to taste
Sear the beef evenly on all sides, in batches. Once all seared add back to pot.
Add the onions and sauté until soft and translucent
Add the garlic and chipotle purée and sauté for 1 minute
Add the beef stock and bring up to a simmer
Simmer until beef is tender (approximately 1 hour)
Add the potatoes, roasted poblano peppers and the kidney beans and simmer until the potatoes are cooked through
Check the seasonings and add kosher salt and ground black pepper as required
GARNISH :CHARRED PABLANO PEPPERS
INGREDIENTS:
4 whole poblano peppers
¼ cup of vegetable oil
1 teaspoon of kosher salt
METHOD:
In a bowl rub the salt and oil over the surface of the peppers
Place the peppers directly on the stove and cook each side until the skin is charred black
Place the peppers into a bowl and cover with plastic wrap
Leave the peppers in the bowl of 5 minutes
Remove the plastic wrap and allow the peppers to cool
When slightly cool use a small paring knife to peel away the skins of the peppers
Next cut into quarters lengthways and remove all the seeds and stem
Cut the peppers into 1 centimeter dice for the soup
GARNISH: CUMIN SOUR CREAM
INGREDIENTS:
1 cup (250) mL of sour cream
1/2 lime, zest and juice
1 teaspoon of ground cumin
METHOD:
Place all of the ingredients into a metal bowl and combine gently with a whisk
Cover with plastic wrap and store in the fridge until required
PLATING:
Ladle soup into 6 deep bowls
Sprinkle ½ oz of shredded Monterey Jack cheese into each bowl
Top each bowl with a dollop of cumin sour cream
Sprinkle chopped poblanos and scallions onto the sour cream for colour
Serves 6 healthy portions
Share your creations with us on social media. Tag Proof Kitchen + Lounge to show us your soup!