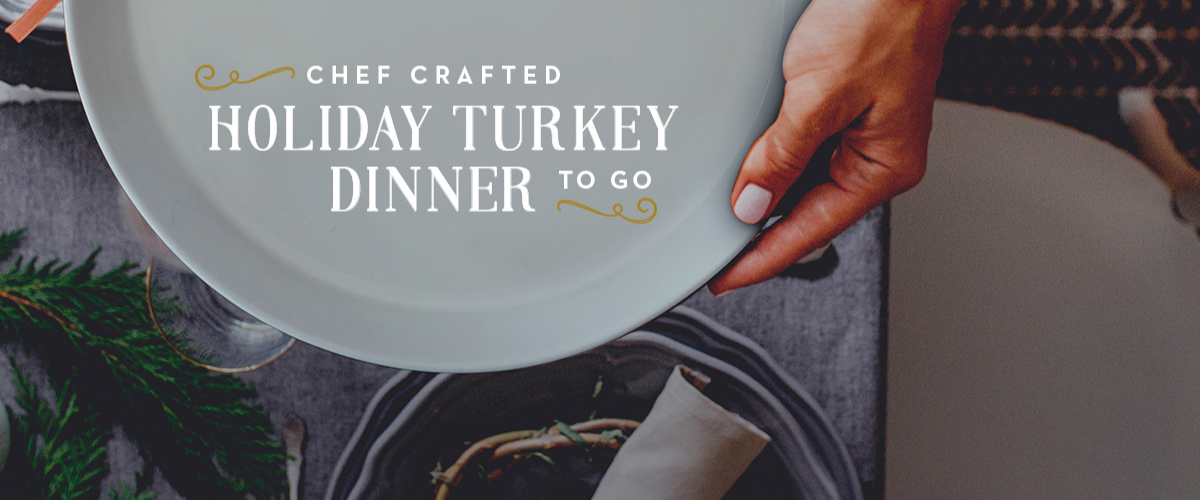 December is always such a hectic month, but don't fret – Proof is here to help! We're delighted to offer both Christmas and New Years dinner options to give you delicious holiday dinners without the prep (or dishes).
If you're already sold, head on over to our Proof to Go page, select your desired holiday order date (24th, 25th or 31st) and start counting down the days to a mouthwatering meal. If you need more information before you let us take care of your holiday cooking, learn more below!
Christmas Eve/Christmas Dinner
This year we are offering a mouthwatering Classic Turkey Dinner for only $34.95! Enjoy 8 oz. of cider brined, slow roasted Ontario free range turkey (white and dark meat), savory sage brioche stuffing, a medley of winter root vegetables, buttermilk mashed potatoes, citrus cranberry compote and turkey pan gravy. For dessert, treat yourself to Proof's Christmas Pudding, a dark sticky toffee sponge cake with dried mixed fruits, brandy + spices and rum vanilla anglaise.
Christmas Dinner Pick Up/Delivery Information
Pre-order deadline is December 22nd
December 24th: pick up or delivery from 4pm – 8pm
December 25th: pick up only from 2pm – 5pm
New Years Dinner
Bring New Years home with our amazing dinners for two! Designed to celebrate the end of the year, each 3-course menu is created for two people to indulge, share, and enjoy in the comfort of your own home.



With multiple menu options, you can find the perfect feast for two. Start with a mouth-watering platter of seafood delights, which go great with lagers, chardonnays or even a martini, or maybe try our delicious appetizer platter full of savoury starters. As the clock counts down the last hours of the year, treat yourself to a succulent chateaubriand roast tenderloin, a full rack of lamb or a whole roasted cauliflower with a tahini + panko crust – all 3 options decadent and deliciously satisfying. Finally, nothing caps off a perfect meal like a sweet finish. We've put together a mouthwatering tasting platter of treats and sweets to dip into a luxuriously rich fondue of Valhrona and espresso chocolate. Finally, as you're counting down to midnight, you can't forget the bubbles. We have different options for some sparkling wines to delight your tastebuds and celebrate the New Year.
New Years Eve Pick Up/Delivery Information
Pre-order deadline is December 29th at 9:00 am
Meals Kits serve 2 and come with heating and serving instructions
Delivery on New Years Eve between 3:00 pm – 5:00 pm
Pick up on New Years Eve between 3:00 pm – 8:00 pm
We hope you'll join us for one (or both) of our amazing holiday meal offerings that you can enjoy from the comfort of your home. Of course, we love seeing you at the restaurant too, and maybe there's a way we can celebrate New Years on location as well…