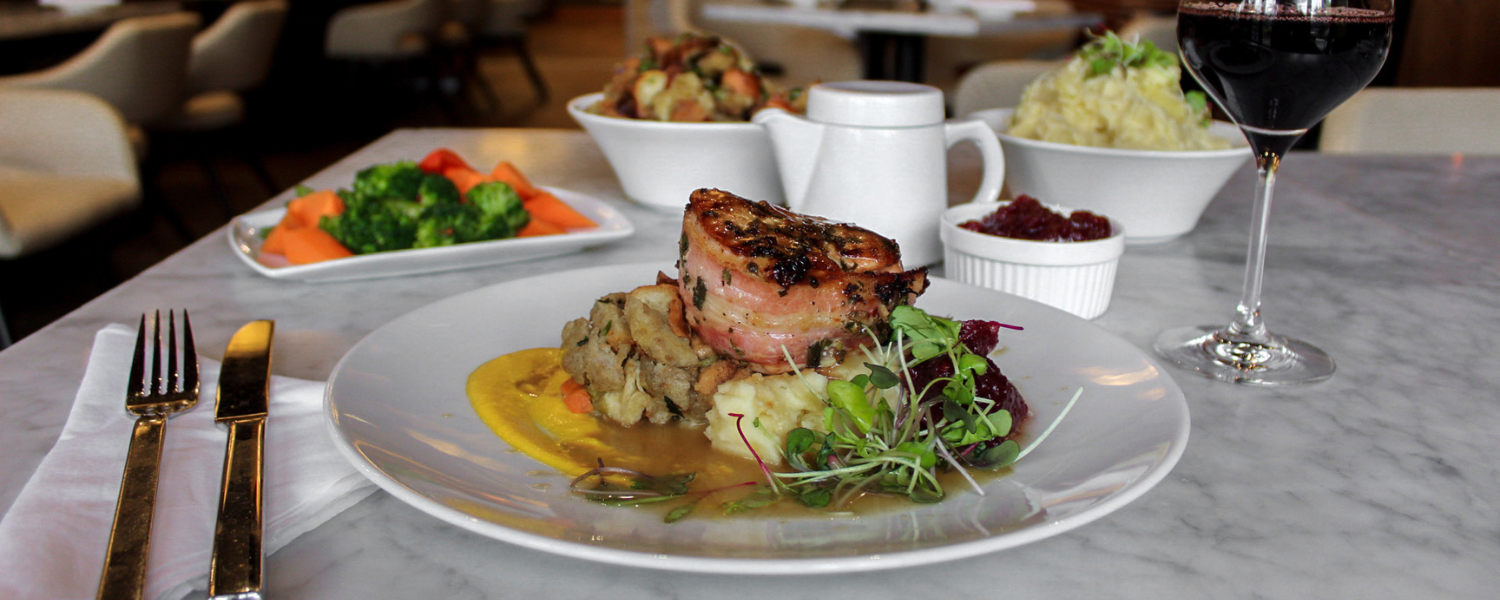 Thanksgiving is a time for gratitude, reflection, and, of course, delicious food! As the holiday season approaches, what better way to celebrate than by taking the night off from cooking and clean up and indulging in a delectable Thanksgiving dinner with your loved ones? This year, join us at Proof Kitchen + Lounge and elevate your Thanksgiving experience with our chef-curated classic turkey dinner. Our specially crafted Thanksgiving menu is available for pre-order or for dine-in. It promises to tantalize your taste buds and leave you with memories to cherish.
Join Us for a Delectable Thanksgiving Dinner
At Proof Kitchen + Lounge, we understand the importance of tradition when it comes to Thanksgiving dinner. That's why we've put together a classic Thanksgiving feast that pays homage to the timeless flavours and ingredients that make this holiday so special. Reserve your table or place your takeout order today and let us make this Thanksgiving truly special for you and your loved ones.
Thanksgiving Dinner at Proof Kitchen + Lounge
Back by popular demand, our chef is preparing individual Classic Turkey Dinner + Pumpkin Pie with delicious, fresh ingredients that are sure to be a hit in your house (you can even take the credit)! The meal includes:
Classic Turkey Dinner + Pumpkin Pie | 35.95
8 oz. bacon wrapped herb marinated turkey medallion / buttermilk mashed potatoes / seasonal roasted vegetables / challah bread stuffing / turkey gravy / cranberry sauce / carrot purée
Pumpkin Pie
butter crust / cinnamon spiced whipped cream
Your Choice of Dine-in Or Pre-Order Your Thanksgiving Dinner
At Proof Kitchen + Lounge, we want to make your Thanksgiving as convenient and enjoyable as possible. Enjoy your Thanksgiving dinner served in our restaurant, where our friendly staff and cozy atmosphere will ensure you have a memorable experience. For those who prefer the comforts of home, we've got you covered with our Thanksgiving dinner to go option. Pre-order your Thanksgiving dinner today and take the work out of cooking this holiday season. We've got your Thanksgiving plans covered, whichever way you prefer.
Dine-in: Friday, October 6th – Monday, October 9th
Pre-order deadline: Friday, October 6th
Reserve Your Table or Place Your Order Today
With Thanksgiving just around the corner, make sure you secure your spot at Proof Kitchen + Lounge. Whether you decide to dine in with us or pre-order your Thanksgiving dinner for a cozy celebration at home, do not wait to enjoy our classic Thanksgiving dinner. Let's make this Thanksgiving a truly memorable and delicious one together at Proof Kitchen + Lounge!