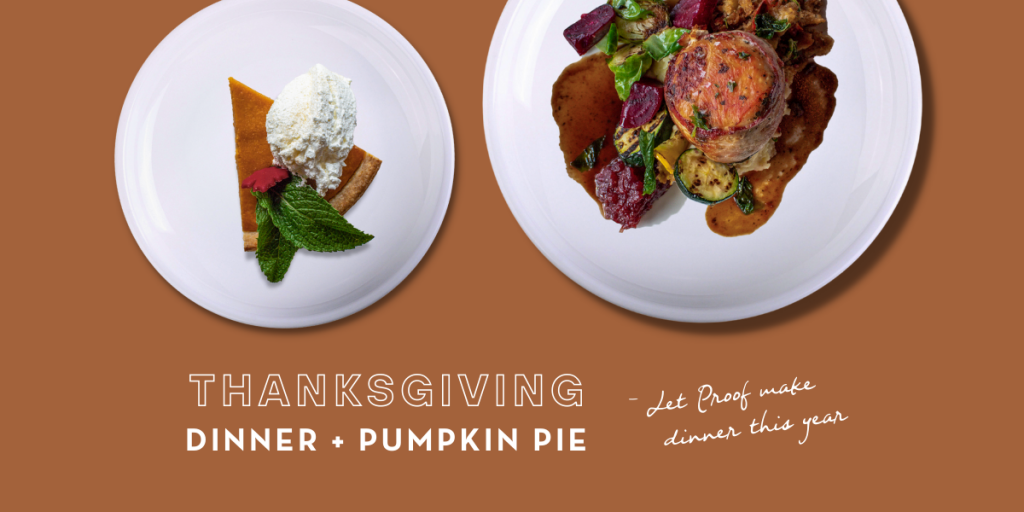 I don't know about you, but when the leaves begin their glorious transition from green to brilliant gold, red and orange it often sets off a reminder to look at all that I must be thankful for. It is no secret that the last two years have been rife with uncertainty, fear, grief, and sadness for many of us, me included. But what I continue to try to remember is the antidote to all those big feelings, is thankfulness and gratitude.
Some of the things that are on my gratitude list this year:
My dog, Pumpkin. Honestly, that is his name. This is his season, and we are just living in it.
My team at Proof. I have always been grateful and privileged to work with an amazing group of individuals who are passionate about service, food, hospitality, and Proof. But this past year more than ever, they have buoyed me when I needed it most.
Family and friends. Even while apart or distanced, friendships and connections with our loved ones bring all the warmth.
Delicious food. I am so thankful for great restaurants and great Chefs who share their talents! Not to mention, being able to serve our guests at Proof Thanksgiving dinner with all the delicious Thanksgiving classics. Indulge in our 8 oz. Ontario free range bacon-wrapped turkey medallion with sage + brioche stuffing, roasted squash + winter root vegetables, buttermilk mashed potatoes with carrot puree served with cranberry compote and classic turkey gravy. Don't worry – we did not forget about dessert! Our pumpkin pie with buttermilk crust and cinnamon spiced-whipped cream delivers a sweet ending to a delicious Thanksgiving meal! Pre-order yours before October 6th to enjoy at home through takeout or delivery or reserve your table with us for October 9th – October 11th .
Our guests at Proof. You. Your support, your kindness, your willingness to adapt and pivot, right along with us as we journeyed through the past two years. Thank you just doesn't seem to convey how much it continues to mean to me and our Proof team.
"What if today we were just grateful for everything?" – Charlie Brown.