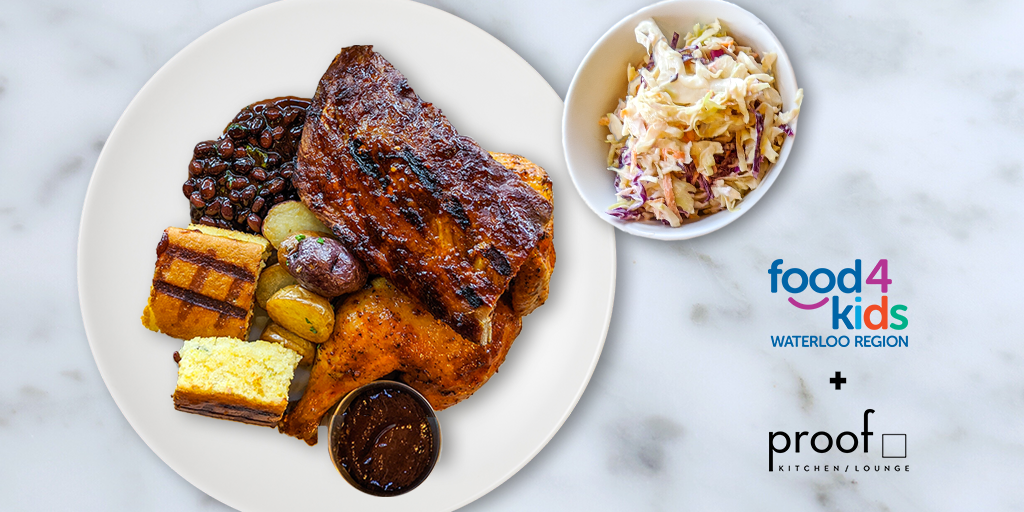 We are incredibly excited to announce that Proof Kitchen + Lounge will be donating $1 from every Saturday Backyard BBQ meal sold at Proof from dining-in at our restaurant or via takeout to Food4Kids Waterloo Region to help provide healthy meals to hungry children experiencing food insecurity in the Waterloo region.
What is food insecurity?
Every child has a right to access healthy food. Right now, in the Region of Waterloo, there are over 2,500 school-age children who are experiencing extreme food insecurity. This means when they leave school, they may not know if and what food will be available to them during the weekends or school breaks. These are chronically hungry children who are missing meals, who do not have access to proper nutrition and who are not getting enough to eat.
About Food4Kids Waterloo Region
Food4Kids Waterloo Region is an organization that works to feed children experiencing extreme food insecurity in the Region of Waterloo. Beginning in 2016, the mission of Food4Kids Waterloo Region is "to provide packages of healthy food for children ages 1 – 14 from severely food insecure homes, during weekend periods, and daily during Winter, Spring and Summer breaks from school."
A strong partnership
Proof Kitchen + Lounge has supported Food4Kids Waterloo Region in previous years, recognizing the important and impactful need this program meets. With the new landscape of COVID-19 keeping children at home, we are more aware than ever that our community is in great need of help. Proof is committed to supporting children who are not able to access the proper amount and quality of food that they deserve.
To support this important cause, Proof Kitchen + Lounge will donate $1 from every Saturday Backyard BBQ meal, which is available to order at our restaurant or via Proof to Go and aims to generously feed 2 people. We know that food security is the foundation for a healthy and nourished community, and our goal in partnering with Food4Kids Waterloo is to help feed the children in our community who need our support.
Helpful Links