Proof Kitchen + Lounge brought Hawaii to Waterloo on Saturday, May 27 for their second annual Tiki Patio Party. Beginning at 2:00 p.m., the patio was in full swing with an incredible variety of samples from local craft breweries, distilleries, and wineries. Some of our guests were even referring to it as a mini beer fest. Together with the free pig roast, dole whip, live band and a grand prize draw for two Muskoka chairs and cooler filled with samples this event proved to be another hit.
The Lei Out
Servers were on (the) deck in tiki themed inspired outfits and looked like they were having just as much fun serving guests, gathering ballots and discussing the day's events and explaining the Instagram contest.
Sample Sessions
Aside from Dickson Distillery's 'Gin Fusion,' I kept to the beer samples. Dickson's concoction is a gin base, mixed with ginger, cucumber, mint, and lime. I'm not usually a gin drinker, but I would definitely recommend this cool and refreshing drink for summer.
My other favourite of the night was 'Cool as Cuke' by Muskoka Brewery. Their rep could tell that I was skeptical about the cucumber and beer mix, but I decided that it would be worth trying. To my surprise, I absolutely loved it.
Elora Brewery never disappoints. I tried their 'Three Fields' lager for the first time. My partner tried the 'Elora Borealis,' which has more a citrus twist to it. He loved his sample, and I loved mine.
At Proof, Hoppy Hour is from 3:00 p.m. to 6 p.m. on Monday to Friday ALL SUMMER LONG. All local Canadian craft beers are $5 in celebration of Canada's 150th.
There were also several ciders in the mix, in the spirit of Canadian Cider Week, which ran until June 4. I went back and tried the Sour Cherry cider on tap at Proof, which was first recommended by server, Jeff.
We also tried most of the options from Innocente, Waterloo Brewery, and Wellington Brewery. There was something for everyone on tap.
If you missed the party but still want to take advantage of the patio, Build-Your-Own Sangria is happening all summer. Choose your base and get ready to have a blast!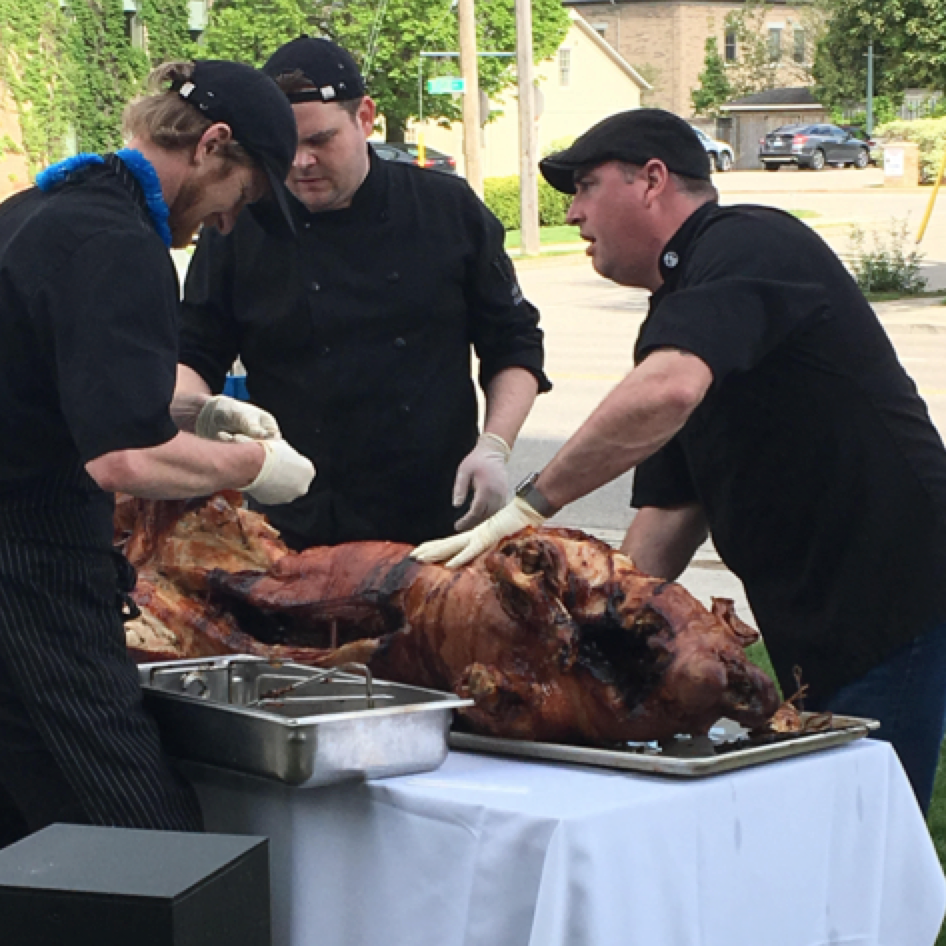 The Pig Roast
Guests were anticipating the arrival of 5:00 p.m. At an amazingly fast rate, roasted pork sandwiches topped with sweet, creamy, crunchy coleslaw were prepared. Whether you wanted one or two, Chef Jeritt and his team made it happen. Come to think of it, I wish I had gotten two! People were driving by in awe of the hog, and the line that was forming in front of it. Trust me, it was well worth the (short) wait.
Father's Day at Proof Weekend Preview
Waterloo's TacoFest is taking place on Friday, June 16 from 6:00 p.m. to 10:30 p.m. at The Museum located at 10 King Street West, Kitchener. Tacos from 16 local restaurants including Proof, as well as craft beer will be sold. All of the proceeds to go Meals on Wheels.
To learn more or get tickets, visit Tacofest.ca
Father's Day is Sunday, June 18. Treat Dad to brunch, lunch, or dinner. Proof will be featuring Surf + Turf at dinner where you can add a delicious buttery Canadian lobster tail to any steak! You don't want to miss out.
By: Khadijah Plummer
Instagram: @writtenbykhadijah