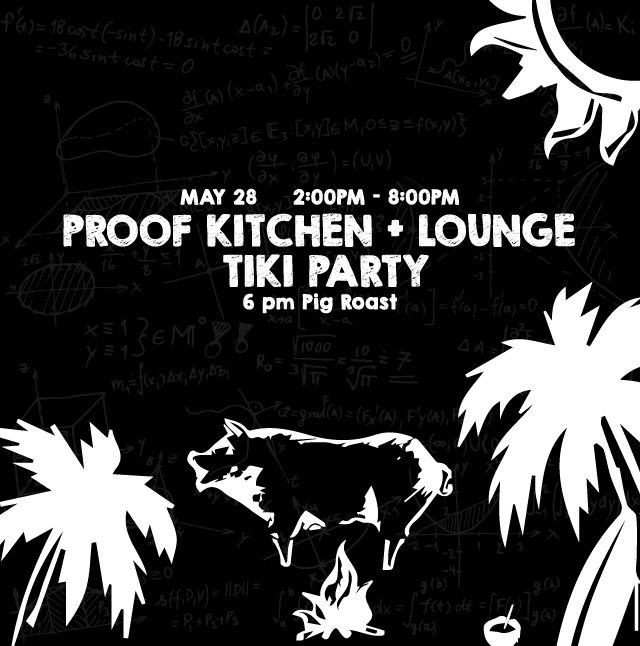 TIKI PATIO PARTY
The weather has finally decided to reward our good behaviour. If you can see yourself sipping on our special edition Tiki cocktails while you put your feet up on our summer patio, consider yourself booked on Saturday, May 28th. Proof will be opening it's three season patio with an official launch party for the 2016 season, featuring our new summer cocktail menu, new summer food menus, local craft beers and handing out Dole Whip soft serve ice cream all day. And of course, what party isn't complete without a pig roast?
Where: Proof Kitchen's Patio – Rain or Shine
Dates: Saturday, May 28
Time: 2:00pm – 8:00pm
Live Music: 3:00pm; Pig Roast: 6:00pm
GO FROM AFTERNOON TO EVENING WITH GREAT FOOD, COCKTAILS & LIVE MUSIC
Try some of our favourites, like our Proof sliders with Stemmler's smoked bacon, Thornloe aged white cheddar and tomato onion jam or our Abacus cocktail with house infused pineapple and Thai chilli rum, maple syrup and lemon, topped off with ginger beer. Kick back and relax with the John Street Band as you enjoy the pleasant ambiance of summer at our Proof Kitchen + Lounge Tiki Party patio kick-off!
We are excited to see several of our favourite local breweries and vendors coming out for the event: Innocente Brewery; Muskoka Brewery; Highlander Brew Co.; Block 3 Brewing Co.; Tre Amici Wine Merchants; Kensington Brewing Company; Beaus Brewery; Waterloo Brewing Co.; Railway City Brewing Co.; Wellington Brewery; Stem Wine Group Inc.; and Elora Brewing Company.
GRAND PRIZE
To celebrate the summer spirit, we will be giving one lucky customer a free BBQ! Come party with us Saturday for your chance to win this Weber 363 square inch, charcoal BBQ.
RSVP
Let us you're coming and visit our event page on Facebook. We can't wait to see you! Alternatively, call us at 519-208-3333 and we would be happy to book you a spot.
Let's celebrate summer together!