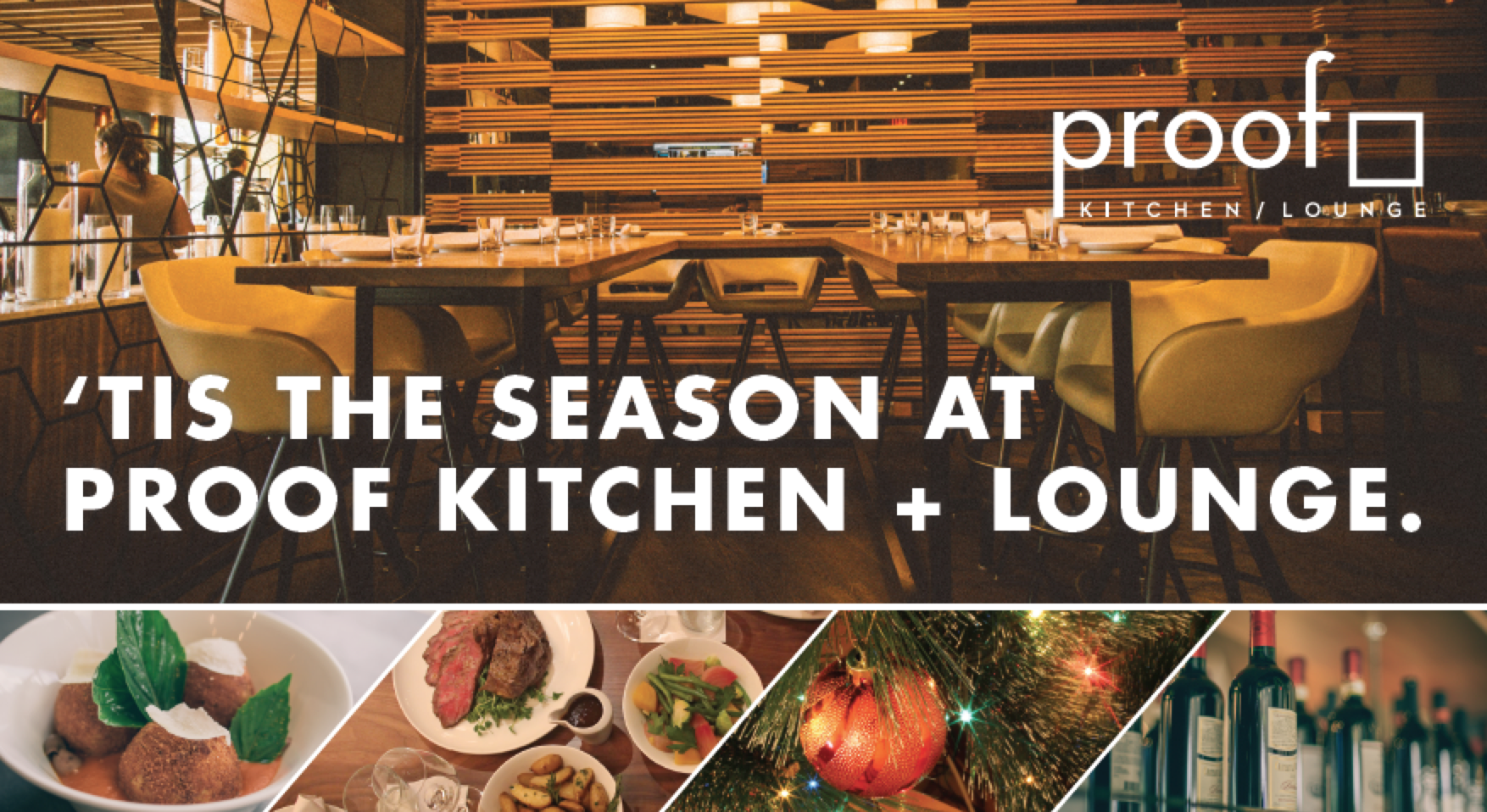 Our gift to you this holiday: The perfect place to host your party!
The Proof team challenges themselves to create the best possible experience for every guest and every occasion. And, there's nothing better than bringing people together over the holidays! If you're looking for a personal setting for your party, corporate event or family gathering, look no further. Spots are filling quickly! Call today to book your reservation.
This holiday season, from December 8th thru 21st, Proof will offer an exclusive a la carte menu to get the festivities rolling! The Barrelyards Schnitzel will feature Berkshire pork schnitzel, sweet potato spaetzle, apple butter and Proof's signature vegetables. You can also indulge in the Comfort Cream Beef Brule: an 8 oz. filet of beef with mushroom duxelle, finished with comfort cream cheese brule and a risotto cake. And while you're indulging, why not add dessert: Peppermint Ice with a chocolate shortbread crust, vanilla bean ice cream and ganache sauce.
From December 22nd to January 3rd, Proof will add even more variety to bring you Memories of Home: an apple cider brined turkey breast with apple and sage stuffing, roasted garlic red skin mash and brussel sprouts. Looking for beef? The 35 Day AAA Ribeye is complete with duck fat fried potatoes, shallot and porcini butter and pinot noir reduction. Pair your meal with the Jenny Appleseed: a hard cider cocktail made with triple sec soaked cranberries, Boulard Calvados, and Waupoos Cider, garnished with a Martin's Family Farm Apple Chip.
You can also look forward to a New Year's Eve 3-course dinner package for two at $59.95 a person! Ring in 2015 with The Duck Impression: duck rilette, pickled roots, toasted cranberry focaccia, blackberry toss and balsamic smear to start. Next you can celebrate with The Land & Water. Enjoy a 6 oz. smoked beef tenderloin, butter poached lobster, star anise hollandaise and pont neuf potatoes. The final touch is The Sparkling Dreams Mimosa Cheesecake with sparkling jelee, late harvest Riesling sorbet and brandy snap. The count down is on! Make your reservations today.
Remember to pickup a Proof gift card, guaranteed to brighten anyone's holiday!