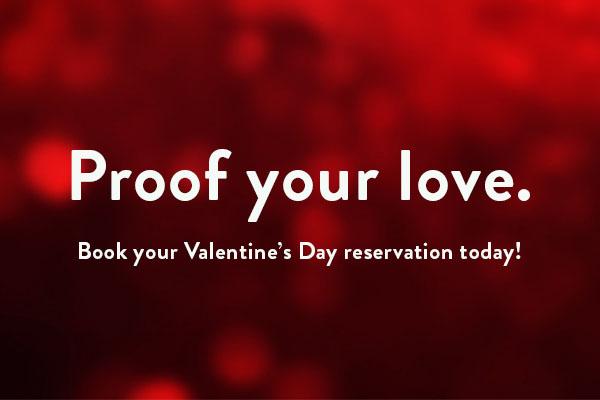 February is the month of love – and we have Proof with our chef-inspired Valentine's menu.
With Valentine's Day and Family Day happening on the same weekend, we figured we would jam-pack those four days with something for everyone; from music (including a live performance), a special Valentine's menu and Family Day brunch with new feature items.
Valentine's Menu: Feb. 11 – 14
Celebrate all weekend long! Starting Thursday, February 11th, our Executive Chef, Jeritt Raney, has prepared a delectable Valentine's menu, available in addition to our regular menu.
Valentine's Entertainment
Thursday evening, we are kicking-off the Valentine's Day/Family Day weekend with our local DJ's, Simply Sounding Good for our monthly lounge night, featuring $7 cocktails. Stop by our lounge for an interactive night of great music paired with delicious food and a hand-crafted $7 cocktail feature from our #LiquidKitchen.
For those seeking a romantic evening, join us on Saturday, February 13th, as we transform our lounge into a live piano bar featuring the talented Allister Bradley in the evening. Allister is a well-known artist across North America & Europe and has established his recording skills in independent record production and film composition, working with dozens of various singer/songwriter/musicians.
Brunch Menu: Feb. 13 – 15
Our chef has also crafted a ramped up brunch menu offered Saturday through Monday from 7:30 AM – 3:30 PM!
Book your Reservation
So consider this your reminder; Valentine's Day/Family Day weekend is coming up and you won't want to miss out on what we are offering! Call us at 519-208-3333 and book your reservations today!